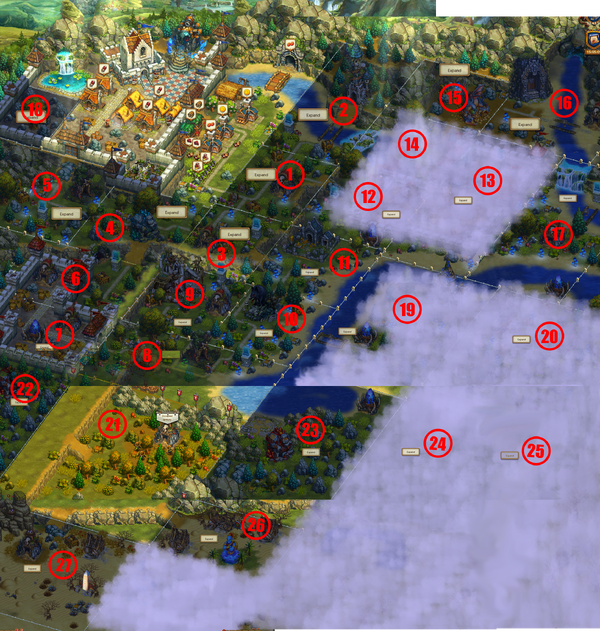 New Territories become available as you progress in the game with questing.

Don't expand your territories until you have a quest to do so!

In order to purchase a territory, your influence must be at a certain level. To increase your influence, you need to purchase decorations.

Most newly purchased territories CANNOT be built on right away (the territory is tinted red-orange). This means you need to defeat or destroy a certain object to take control of the land. However, you can still clear the land of trees and rocks with no problems.

This page is a work in progress and will be expanded upon as more information becomes available.

Progression & Requirements
#
Image
Name
Cost: or
Landmark(s)
Prerequisites
0
Starting Area
 -
 -
-
Castle Dungeon
King Statue
Town Hall
None
1
Outpost Area
3500
700
2
Gobool Lair
None
2
Wizard Area
6000
750
3
Wizard Tower
None
3
Gobool Area
 10,000
 800
 4
Gobool Lair
Enemy Lair quest
4
Stone Giant Area
 15,000
 800
5
Stone Giant
Book of Legends quest
5
Trollum Area
 20,000
 900
 6
Trollum Swamp
Enemy Ahead quest
6
South Gate Area
 35,000
 950
 7
Castle Gate
Gobool Lair
?
7
South Fortress Area
 50,000
 1000
 8
Gobool Lair
?
8
Swamp Area
 65,000
 1050
 9
Trollum Swamp
Draining the Swamps quest
9
Royal Academy Area
 80,000
 1100
 10
Gobool Lair
Royal Academy
Draining the Swamps quest
10
Wickerewolf Area
 100,000
 1150
 11
Wickerewolf
Draining the Swamps quest
11
Graveyard Area
 120,000
 1200
 12
Graveyard
Wolf Hunt quest
12
Central Gate Area
 140,000
 1250
 13
Fog Obelisk
Castle Gate
Gobool Lair
First Contact quest
13
Central Fortress Area
 160,000
 1300
 14
Stone Giant
?
14
Foothills Area
 180,000
 1350
 15
None
Giant at the Gate quest
15
Dragos Area
 200,000
 1400
 16
Dragos
Expand your territory quest
16
Dwarf Area
 250,000
 1450
 17
Dwarven Gates
Gobool Lair
Princess in Combat quest
17
Waterfall Area
 300,000
 1500
 18
Gobool Lair
Fog Obelisk
Giant at the Gate quest
18
Courtyard Area
 150,000
 1200
 5
None
None
19
Castle of Kingz Area
 1.000,000
 1500
 12
Fog Obelisk
Trollum Swamp
Castle of Kingz
Opened with new update
20
Gobool Headquarters Area
 5.000,000
 1500
 20
Fog Obelisk
Gobool Headquarters
Ballista
Fog Cover quest
21
Gobool Lair Area
230,000
1200
11
Gobool Lair
New Horizons quest
22
Ancient Giant
150,000
950
11
Ancient Giant
Strengthening Your Influence quest
23
Ancient Giant
1,000,000
1500
11
Fog Obelisk
Ancient Giant
Third Attack quest
24
Castle Area
2,000,000
1500
15
Stone Giant x2
Fog Obelisk x2
Gobool Lair
Fog Obelisk 23
25
Dragos
1,500,000
1200
20
Dragos
Thick Fog quest
26
Desert
900,000
1500
24
Joonie
Defeating 5 Harpulae
27
Obelisk
1,100,000
1500
25
Obelisk
Reconnaissance quest
28
Joonie
 ?
 ?
25
Joonie
29
Caravanserai
1,100,000
1500
27
Caravanserai
Hope Found quest