Tax Office. Even in Mid-evil times, the government has to get their share; it is a Social building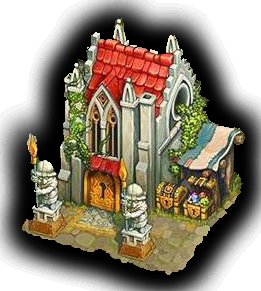 Deals cost gold

and/or gems

and yield experience points

. Your tax collector will ensure all your buildings and resource production buildings are harvested when they are complete.
Special Note: Running your tax collection office requires 1 worker, cannot be sped up with gems

, and they will not harvest any special buildings such as mills and apple trees.
Requirements
Construction
Lvl
Cost
Reward
1
?
8:00:00
700
100
2,000
4
200
25
160
2
?
15:00
500
100
1,000
4
 ?
 ?
5
3
?
30:00
600
100
1000
4
 ?
 ?
10
4
>
1:00:00
700
100
1000
4
 ?
 ?
20
Deals
Lvl
Deal
Cost
Income
1
Insignificant Tariff
6:00:00
1000
1
50
2
Medium Tariff
18:00:00
20
1
100
3
Tax Collection
36:00:00
30
1
200
4
Tithe
72:00:00
40
1
300
Additional Information
Size: 3x3