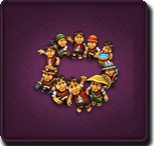 Social Functions
Friends
By clicking the friends button (male and female button on the bottom of the screen), and then the +Add a Friend button, you can add friends to your account by two ways:
​Invite Friends: adding through Facebook.

Become allies: inviting random players the game shows you.

There currently seems to be no limit to the amount of friends you can have. There are limitations though to how many friends you can invite per day.

You can visit your friends' kingdoms in game. There you are able to see what they have built, what territories they have unlocked, and you are also able to collect resources from their buildings (see Free Resources below).

There is a quest line starting at level 7 to add friends: Add Allies Quest Line
Gifts
You can receive 5 gifts every  24:00:00

Each time you accept a gift you will also be able to thank the sender, which will award them some resources randomly.
You may compose a Wishlist of things you would like friends to send you. Items can include: resources, collection pieces, and scrolls .
If your warehouses are not high enough level to store the resource, it will also not be put into your inventory, effectively wasting one of your 5 receivable gifts for the day.
When your warehouses are full, collected items will be put in your inventory and you will be brought to that page. Note: you will have to go back to the Incoming tab to thank.
Gifts that are not accepted will expire after  24:00:00
Free Resources
You receive resources,  reputation, and  experience for every visit to a friend as a gratuity (once per day per friend). Thus, you can choose among different resources and obtain them this way, though in smaller amounts than a resource production buildng. New resources are assigned every morning, and the amount received depends on the resource itself (known max amounts):
You have up to 5 picks to collect from your friend's buildings per day, giving you small amounts of resources, reputation, gold, and experience. Each pick consumes 10 points of Endurance (located beneath your  reputation level). Endurance is restored at a rate of 1 point every 3 minutes, and can also be purchased with  gems from the store.
The resources are not related to the game of your friend, i.e. he/she may not even have access to the resource you are picking, nor are they related to the building that they are collected from.
When your warehouses are full, collected items will be put in your inventory and you will be brought to that page.
Almost every day you may find a free chest somewhere in the territory of one friend! Just like the one you find once a day in your own territory.
Workers
If you don't have enough workers for a job you can be lent up to 3 per day from your friends.
Social Media
Every notification that pops up has the option to 'share' the achievement (level, completed quest, etc.) on social media sites Facebook and Twitter, for a gem reward.
Automatically, the Facebook and Twitter buttons are selected. Once you close out of the acheivement window, a new window pops up asking you to log into either Facebook or Twitter (or both), giving them permission to post on your page.
Once you share the log in data with Castlez, it will only reward you the gems ONCE. So that is 200 gems for Facebook, and 200 gems for twitter. It does not give you 200 gems every time you get an acheivement.
Many of us do not want to post on the page, so simply de-select the button for Facebook and/or Twitter, and the notifications asking for your log in will not pop up again.