Main Kingdom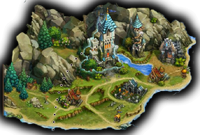 Please find below the list of quests in chronological order. Please also note this page is based on the Android version and will vary slightly in order and events across the multiple platforms and versions.

Initial Resources:
50 Food


800 Gold


200 Gems


10 Experience

Here's a little quick tip for searching the quests....hold the ctl key and press F. This will open a little search bar in the upper right corner of the screen. You can then type in a key word or the name of the quest you are on and it will take you there. If you type in a key word, the search bar will tell you how many times that word is used and there will be a little up and down arrow you can press to navigate through it
You can now click on the "When it appears" area and it will take you backwards to the corresponding quest.
Quests
Quest Title
Requirements to Complete
Rewards
When it Appears

Tutorial

Ripe Apple
?
10
Initial Visit
Stocking Up on Wood
?
10
?
Wilderness
?
10
?
First Crops
?
10
?
A Roof over Their Heads
?
10
?
A Twist of Fate
?
10
?

Start of Main quest line

Town is Growing
Build 2 Huts
Collect scrolls from 3 huts
10
30
15
Initial quest in this series

Weeding
Cut down 5 trees
Cut down 5 bushes
10
Initial quest in this series

Cleaning up the Fortress
Clean up 5 crates
10
Initial quest in this series

Ripest Apples
Collect food from 2 Apple Trees
10

Cleaning up crates

Cleaning up the Fortress
Clean up 5 barrels
10

Cleaning up crates

Giant Tree
Cut down the giant tree
10

Cleaning up barrels

Battle Standard
Find a flag in a burried chest
20
10
Initial quest in this series

Harvest Season
Build a field
Upgrade 2 fields
50
20

Battle Standard

Family Relic
Find a sword
Order 2 Sunflowers
20
10
20

After building your first field from Harvest Season

Credit History
Find a Banking Bill
20

After finding sword

Wood Harvesting
Build a Lumberman's Hut
Order 2 Logs at Lumberman's Hut
Collect Profit from Lumberman's Hut
15

After Family Relic

Family Relic
Find a family shield
Note: order deal in Lumberman's Hut
20
1 torch

After finding sword

Renowned Chef
Build a Bakery
Order Honey Rolls in Bakery
Collect Profits from Bakery
50

After finding shield

Wide Selection of Pies
Upgrade Bakery to level 2
Order Cherry Pie at the Bakery
10

After Renowned Chef

Spirit of Courage
Order ? deals at Bakery
Complete Dawn Knight Collection
Activate Dawn Knight Collection
150
20
20
25

After finding shield

Guards the Kingdom
Build 2 Guard Booths
35

After Spirit of Courage

Comfortable Living
Upgrade 3 Huts to level 2
10
After 1st Guard Booth

Commemorative Photograph
Take a Screenshot
25
After 1st Guard Booth

Old Junk
Clean up 2 old carts
15

After Guards the Kingdom

Pastries to Order
Grant 3 wishes in the Bakery
10

After Old Junk

More Subjects
Build 2 Hovels
10
1

After Guards the Kingdom

Burned Bakery
Build a 2nd Bakery
Upgrade Bakery to level 2
20

After building hovels

High Demand
Build a 3rd Bakery
Upgrade 3 Bakeries to level 3
20

After granting 3 Bakery wishes

Wide Range of Rolls
Build a 4th Bakery
Upgrade 4 Bakeries to level 4
40
After building 3rd Bakery

Order Magical Tiramisu
Order 10 Magical Tiramisu at the Bakery
40
After building 3rd Bakery

Magical Pocket
Move a building to storage
Take a building out of storage
50

After Burned Bakery

More Lumber Needed
Build another Lumberman's Hut
Upgrade 2 Lumberman's Huts to level 2
Order 2 Piles of Logs from Lumberman's Hut
60
100
25

After Burned Bakery

Royal Favour
Build a 3rd Guard Booth
20

After Burned Bakery

A Home for a Knight
Build a 3rd Hovel
Upgrade 3rd Hovel to level 2
20
After building 3rd Guard Booth

Dull Landscape
Upgrade 3 Hovels to level 3
20
After building/upgrading 3rd Hovel

Legendary Crossing
Repair the Bridge
10

After building hovels

Dusty Dungeon
Explore the Castle Dungeon
Find 1 Token in the dungeon
25
1

After repairing the bridge

External Renovations
Upgrade 3 Hut to level 3
10
2 torch

After building hovels

Urban Facades
Upgrade 2 Hovels to level 2
20

After upgrading huts

Beautiful Garden
Build a flowerbed
10

After Dusty Dungeon

Beautiful Garden (Part 2)
Build 2 more flowerbeds
Find 6 tokens in dungeon
15
1 fang

After building 1 flowerbed

For Comfort and Coziness
Upgrade 3 HUts to level 4
10
1 lock

After building a flowerbed

Home Walls
Upgrade the Town Hall to level 2
40
1
1 Whistle

After building a flowerbed

Tea Time
Grant 6 wishes in the Bakery
15
After building 3rd flowerbed

Clearing the Rubble
Remove 7 little piles of stone
Remove the Stone Blockage
10
After building 3rd flowerbed

Road Works
Build 5 Paved Roads
Accumulate Influence to level 2
20
After building 3rd flowerbed

Feast of his Moustachiosness
Grant 10 wishes in the Bakery
10

After granting 6 Bakery wishes

Guardian of Crops
Build 2 Scarecrows
15

After building 5 paved roads

New Fields
Upgrade 4 fields to level 3
Order 8 Tomatoes
30
At Level 10

Young Grapes
Upgrade 4 fields to level 4
Order 8 Grapes
60

After New Fields

Elven Baths
Build an Elven Bath
Collect 1 Rune
Collect profits from Elven Bath
40

After New Fields

Collect and Rule
Collect 10 Tokens
20

After Raising Influence Level to 2

Tickling Bubbles
Build a 2nd Elven Bath
Upgrade 2 Elven Baths to level 2
40
After building 1st Elven Bath

Bathing Day
Grant 10 wishes at the Elven Bath
25
25
After building 1st Elven Bath

Royal Baths
Build a 3rd Elven Bath
Upgrade 3 Elven Baths to level 3
50

After Tickling Bubbles

Rest and Respite
Grant 10 wishes in the Bakery
Grant 10 wishes in the Elven Bath
50

After Tickling Bubbles

Magical Pocket
Move 2 Bakeries into storage
80

After Royal Baths

Evening Rest
Grant 15 wishes in the Bakery
Grant 15 wishes in the Elven Bath
30
30

After Royal Baths

Sponges and Brushes
Activate the Bath Attendant Collection
70

After Royal Baths

Warehouse Capacity
Upgrade Warehouse to level 2
30

After upgrading Town Hall (L2)

Mysterious Attack
Explore new Territory (#1)
30
2

After upgrading Town Hall (L2)

Rich Hovels
Upgrade 3 Hovels to level 4
20

After upgrading warehouse

Rebuilding
Rebuild 1 Hut into a Hovel
Find 10 blueprints for rebuilding the house
20

After upgrading warehouse

More Lumber Needed
Build a 3rd Lumberman's Hut
Upgrade 3 Lumberman's Huts to level 3
40

After upgrading warehouse

Great Renovations
Rebuild 2 Huts into a Hovels
20
After rebuilding 1st hut

Rebuilding the Town Hall
Upgrade the Town Hall to level 3
40

After upgrading hovels

First Attack
Defeat the gobool scout
Pick up loot from gobool
30

After purchasing Territory 1

Clearing the Territory
Cut down 3 trees
Cut down 4 bushes
10

After purchasing Territory 1

Light in the Darkness
Find 3 Torch Activators (do battles)
20

After first battle

Now We Need Stone
Build a Quarry
Order a Basket of Stone from Quarry
Upgrade Quarry to level 2
40

After first battle

Counterattack
Defeat 4 Gobools
30

After First Attack

Out of Room
Build a 2nd Warehouse
30

After First Attack

Large Storage Spaces
Upgrade Warehouse to level 2
45

After building 2nd Warehouse

First Line of Defense
Build 2 Outposts
(Designated spot in new territory)
100
75
30

After Counterattack

Gobool Attack
Defeat 10 Gobools
30

After defeating 4 gobools

Gobool Attack
Defeat 10 more Gobools
20

After defeating 10 gobools

Border Lockdown
Build a 3rd Outpost
40

After defeating 4 gobools

New Homes for New Subjects
Build a Manor
30

After building 3rd Outpost

Defense Technologies
Upgrade 3 Outposts to level 2
50

After building a Manor

Heavy Industry
Build a 2nd Quarry
Upgrade 1 Quarry to level 2
50

After upgrading Outpost's

New Jobs
Build a 2nd Manor
Upgrade 2 Manor's to level 2
50

After upgrading Outposts

Stone Boom
Order 4 Crates (boxes) of Stone at the Quarry
50

After Heavy Industry

Mining Picks at Work
Build a 3rd Quarry
Collect 1 Rune
Upgrade 3 Quarries to level 3
70

After Heavy Industry

Expanding the Mines
Upgrade 3 Quarries to Level 4
85

After Mining Picks at Work

Guarding our Borders
Upgrade 3 Outposts to level 3
60

After building/upgrading Manors

Home for the Ladies in Waiting
Build a 3rd Manor
Upgrade 3 Manors to level 3
60

After Upgrading 3 Outposts

Shadow Outpost
Complete the Training Camp Mission
Note: 1st round only
40

After defeating 4 gobools

Attack Plan
Complete Attack Plan Collections
Activate the Attack Plan Collection
40
After 1st round of Training Camp

Construction Runes
Complete the Training Camp Adventure
Collect 3 Runes
40
After 1st round of Training Camp

Knights Shelter
Build a Dragos Stable
1
40

After Attack Plan

Knight Set
Find a Dragos Egg
Activate the Dragos Knight Collection
25

After Attack Plan

Enemy Lair
Destroy the Gobool Lair
2
40

After Attack Plan

A Brilliant Plan
Activate the Scarecrow Collection
2
30

After Attack Plan

Giant Pie
Order 4 Eggplant
Order 4 Sunflowers
Order 4 Tomatoes
40

After Activating Scarecrow Collection

Breaking News
Grant 10 wishes at the Bakery
50

After Giant Pie

Lavish Feast
Order 6 Sheds of Logs in Lumberman's Hut
1
60

After Breaking News

Gobool Leader
Defeat 5 Gobool Riders
20

After destroying lair

New Roads
Build 5 paved roads
10

After destroying lair

Honor and Respect
Build 3 Barrels of Swords
Build a Wattle
20

After building 5 roads

Royal Navigation
Build 3 Road Sign
20

After building 5 roads

Construction Work of the Century
Upgrade 3 Manors to level 4
70

After Ladies in Waiting

Castle for a Princess
Upgrade the Town Hall to level 4
65

After Ladies in Waiting

Royal Vineyards
Upgrade 6 Fields to level 4
Must build 2 more fields and upgrade them
80

After upgrading Town Hall (L4)

Pleasing to the Eye
Upgrade 3 Elven Baths to Level 4
70

After upgrading Town Hall (L4)

Mysterious Tower
Explore New Territory (#2)
30

After destroying lair

Bridge Across the River
Build a bridge
30

After Opening Territory (#2)

New Roads
Build 9 Paved Roads
10

After Opening Territory (#2)

Treasure Map
Collect 4 Map Fragments
Find Treasure Chest
50

After Opening Territory (#2)

Clearing the Way
Cut down 2 trees
Uproot 4 bushes
10

After Opening Territory (#2)

New Lands
Explore New Territory (#3)
40

After Opening Territory (#2)

Gobools in the Tower
Defeat 10 Gobools
40

After building bridge

Preparing for the Expedition
Activate the Tower Master Robe Collection
50

After building bridge

First Search
Explore the Mage's Tower
50

After activating Tower Master Robe Collection

Champions Reward
Activate the Dawn Knight Collection
150
30

After activating Tower Master Robe Collection

Winged Scoundrels
Activate the Scarecrow Collection
200
50

After Champions Reward

Searching for the Archive
Activate the Mage's Library Catalog Collection
65

After First Search

Thinning the Vegetation
Cut down 2 trees
Uproot 6 bushes
20

After Opening Territory (#3)

Gobool Lair
Destroy the Gobool Lair (Territory #3)
40

After Opening Territory (#3)

New Roads
Build 10 Paved Roads
15

After Opening Territory (#3)

Magic Book
Activate the Tower Keeper's Robe Collection
250
70

After Winged Scoundrels

Fighting the Crows
Activate the Scarecrow Collection
Activate the Tower Keeper's Robe Collection
300
65

After activating Tower Keeper Robe Collection

A Lucrative Offer
Activate the Mage Library Catalog Collection
Activate the Scout Collection
500
110

After Crystal Prison

Wheat for the Kingdom
Build 2 more Fields
15

After Upgrading Town Hall (L4)

Gobools' Bath Day
Defeat 6 Gobools
Order 4 Massages in the Elven Bath
60

After activating Bath Attendant Collection

Crystal Prison
Activate the Scout Collection
35

After ordering 4th massage

After Pool Party
Order 8 Holiday Cakes from the Bakery
75
1

After Gobools Bath Day

Large Storage Space
Build a Warehouse
Upgrade 3 Warehouses to level 3
60

After Upgrading Town Hall (L4)

Disarmament
Collect 5 spears from defeated gobools
30

After activating Mage Library Collection

Mouchole's Village
Complete the Mouchole's Village adventure
Only need to complete 1st stage
75

After activating Mage Library Collection

Book of Legends
Activate The Legend of the Stones of Creation Collection
70
2

After completing first stage of Mouchole's Village

One on One
Defeat 8 Gobools
60

After completing 1 round of Mouchole's Village

Enemy Ahead
Explore new Territory (#4)
70

After activating Stone Creation Collection

Down with the Spies!
Cut down 5 trees
Uproot 8 bushes
15

After exploring Territory (#4)

Battle with the Stone Giant
Defeat the Stone Giant
100
1
2

After activating Stone Creation Collection

A Cunning Plan
Active the Potion Of Cold Collection
70
After 1st phase of Stone Giant

Rest Before Battle
Order 8 Tiramisus at the Bakery
Order 6 Massage's in the Elven Baths
60
After 1st phase of Stone Giant

Guarding the Kingdom
Build a Dragos Stable
65
After 1st phase of Stone Giant

Fortress on the Horizon
Explore new Territory (#6)
80

After defeating the Stone Giant

New Roads
Build 10 Paved Roads
20

After defeating the Stone Giant

Symbol of Respect
Build 3 more Flags
30

After building 10 roads

Logs and Lumber
Build a Sawmill
Collect 3 Runes
Collect profits from Sawmill
50

After Upgrading Town Hall (L4)

A Good Supply of Lumber
Build a 2nd Sawmill
Upgrade 2 Sawmills to level 2
Order 4 Piles of Lumber at Sawmills
75

After collecting from Sawmill

Wagons for the Expedition
Build a 3rd Sawmill
Collect 4 Runes
Upgrade 3 Sawmills to level 3
85

After A Good Supply of Lumber

Sentry Towers
Build 3 Sentry Towers
50

After collecting from Sawmill

Orders for Lumber
Upgrade 3 Sawmills to level 4
95
After building/upgrading 3rd Sawmill

Military Needs
Order 6 carts of lumber at the Sawmill
Order 8 carts of stone at the Quarry
80
After building/upgrading 3rd Sawmill

Homes for Workers
Build a Villa
50
After building 1st Sentry Tower

Beer Mug Master
Build a Tavern
Order a Vegetable Omelet at the Tavern
Collect profits from the Tavern
60
After building 1st Sentry Tower

A Feast in Private
Grant 15 wishes at the Tavern
35
35

After Collecting from Tavern

The Astrologer's Tower
Upgrade 3 Sentry Tower to level 2
60

After building 3 Sentry Towers

Giant Enemy
Defeat a Trollum
40

After building 3 Sentry Towers

Find the Princess
Explore new Territory (#5)
50

After defeating the Trollum

Construction Boom
Build a 2nd Villa
Upgrade 2 Villas to level 2
60

After Astrologers Tower

A Supply of Ale
Build a 2nd Tavern
Collect 2 Runes
Upgrade 2 Taverns to level 2
75

After Astrologers Tower

Strange Mushrooms
Collect 7 magical mushrooms
20

After Opening Territory (#5)

The Great Drain
Activate the Drainage Pump Collection
50

After Opening Territory (#5)

Fighting Shadows
Cut down 6 trees
Uproot 8 bushes
20

After Opening Territory (#5)

New Roads
Build 10 Paved Roads
25

After Opening Territory (#5)

Smart Books
Activate the Mage's Library Catalog Collection
Activate the Legend of the Stone of Creation Collection
750
130

After A Lucrative Offer

Rescuing the Princess
Destroy the Trollum Swamp
50

After The Great Drain

Border Lockdown
Upgrade 3 Sentry Towers to level 3
75

After Construction Boom

Blocked Gate
Clear the blockage at the gate
3 phases of 12:00:00 each
20

After Rescuing the Princess

New Wine
Build a Tavern
Upgrade 3 Taverns to level 3
90

After A Supply of Ale

Magical Refrigerator
Activate the Potion of Cold Collection
1000
140

After Smart Books

Inspiring Homes
Build a Villa
Upgrade 3 Villas to level 3
80

After Border Lockdown

Prince Frog
Defeat 6 Gobools
30

After opening Territory #6, must start a battle

Green Pet
Order 4 Massages in the Elven Bath
Order 4 Tomatoes
35

After Prince Frog

Gaining a Foothold
Cut down 3 trees
Cut down 6 bushes
20

After Opening Territory (#6)

Enemy Camp
Complete the Enemy Camp adventure
Only need to complete 1st stage
90

After Opening Territory (#6)

Begin the Assault!
Attack the fortress gate
80

After Enemy Camp

Magical Tools
Complete the Boy Wizard Collection
40

After Green Pet

Where's the Prince?
Find the prince
50

After Magical Tools

Magical Trade
Complete the Boy Wizard Collection
Complete the Mage's Tower Catalog Collection
1500
160

After Where's the Prince?

Another Evening Rest
Grant 20 wishes at the Tavern
Grant 25 wishes at the Elven Bath
40
40

After New Wine

Ballroom
Upgrade 3 Villas to level 4
90

After Inspiring Homes

Building by the Book
Upgrade the Town Hall to level 5
100

After Inspiring Homes

New Opportunities
Rebuild 3 Manors into Villas
60

After Inspiring Homes

Counterattack
Defeat 8 Gobool Riders
80

After Begin the Assault!

KABOOOOOOOOOM!
Activate the Powder Charge Collection
80

After Begin the Assault!

Rich Harvest
Build 6 Warehouses
Already built warehouses count
75

After Building by the Book

Stone Cutters at a Premium
Build a Stone Cutter's Workshop
Collect 5 Runes
Collect profits from Stone Cutter's Workshop
85

After Building by the Book

Wine for the Guests
Upgrade 3 Taverns to level 4
100

After Building by the Book

Fighting Gang
Defeat 8 Gobools
90

After Counterattack

Warehouse Quarter
Upgrade 6 Warehouses to level 2
90

After Rich Harvest

The General's Attack
Smash the fortress gate
100

After KABOOOOOOOOOM!

Crackertrap
Activate the Powder Charge Collection
2000
170

After Magical Trade

Upgrade your Warehouses to level 3
Upgrade 6 Warehouses to level 3
105

After Warehouse Quarter

Hollows for the blocks of stone
Upgrade 4 Warehouses to level 4
110

After Upgrade your Warehouses to level 3

Battle in the Fortress
Destroy the Gobool Lair
70
2

After The General's Attack

New Roads
Build 12 paved roads
25

After Battle in the Fortress

Fighting in an Urban Area
Explore new Territory (#7)
75

After Battle in the Fortress

Desperate Attack
Defeat 8 Gobools
75

After Battle in the Fortress

Oak Benches
Build 4 Benches
30

After New Roads

Final Assault
Destroy the Gobool Lair
100

After Fighting in an Urban Area

Commander
Defeat 1 gobool rider
Defeat 4 gobools
120
2

After Final Assault

Caustic Fog
Examine the Fog Obelisk
100

After Final Assault

Summer Residence
Complete the Summer Residence adventure
Only need to complete 1st stage
120

After Commander

Beautiful Hostage
Activate the Barman's Collection
60

After Commander

Architect's Office
Activate the Sculptor's Set Collection
70

After Beautiful Hostage

King Statue
Build a King Statue
120

After Beautiful Hostage

Secret Chamber
Explore the Mage's Tower 2 times
100

After Summer Residence

Draining the Swamps
Explore new Territory (#8)
80

After Caustic Fog

Treasure Hunting Again
Collect 5 map fragments
Find the treasure chest
100

After Draining the Swamps

Support the Crops
Cut down 6 trees
Uproot 8 bushes
30

After Draining the Swamps

Away with the Swamps
Destroy the Trollum Swamp
100

After Draining the Swamps

Dwarven Update

After Away With the Swamps

First King's Tapestries
Acitvate the History of the First King Collection
100
2

After Secret Chamber

Rails for Trolleys
Upgrade 6 Warehouses to level 4
115

After Hollows for the blocks of stone

Pig Farm
Build 2 Pig Farms
Collect profit 2 times from Pig Farms
100

After Stone Cutters at a Premium

The School of Life
Build a Jail
65

After Stone Cutters at a Premium

New Chisels
Upgrade 2 Stone Cutter's Workshops
Order 4 Boxes of Cut Stone
100

After Stone Cutters at a Premium

Former Glory
Explore new Territory (#9)
90

After Away with the Swamps

New Roads
Build 15 Paved Roads
30

After Away with the Swamps

Signal to Attack
Build 4 Bells
50

After New Roads

Meat Specialties
Order 6 Suckling Pig deals from the Pig Farm
50

After Pig Farm

Latent Talent
Acitvate the Legend of the First King Collection
2000
190

After First King's Tapestries

Wolf's Forest
Explore new Territory (#10)
120

After First King's Tapestries

Expansion Update 8-21-14

After Wolf's Forest

Creating the Model
Order 10 Piles of Cut Stone at Stone Cutter's Workshop
Order 10 Pigs in Apples at the Tavern
110

After Architect's Office

Ancient Statue
Explore the Mage's Tower 2 times
90

After Architect's Office

Livestock Growth
Upgrade 2 Pig Farms to level 3
130

After Meat Specialties

A Big Home for a Big Ogre
Build an Estate
70

After The School of Life

Interrogation
Rehabilitate 4 enemies at the Jail
30

After The School of Life

Boulders for the Kingdom
Build a Stone Cutter's Workshop
Collect 8 runes
Upgrade 3 Stone Cutter's Workshops to level 3
110

After New Chisels

Master Clockmaker
Build a Clockmaker's Shop
Collect 6 Runes
Collect profits from the Clockmaker's Shop
70

After A Big Home for a Big Ogre

Stone Flowers
Upgrade 3 Stone Cutter's Workshops to level 4
120

After Boulders for the Kingdom

Work for the Lumbermen
Cut down 4 trees
Cut down 6 bushes
40

After Former Glory

Away with the Windbreak
Demolish the Gobool Lair
120

After Former Glory

Dinner on Time
Grant 20 wishes at Clockmaker's Shop
Grant 30 wishes at Bakery
50
50

After Master Clockmaker

Watches for Everyone
Build a Clockmaker's Shop
Upgrade 2 Clockmaker's Shops to level 2
110

After Master Clockmaker

New Roads
Build 15 Paved Roads
40

After Away with the Windbreak

Chambers for the Prisoners
Build a Jail
80

After Interrogation

Music Boxes
Upgrade 3 Clockmaker's Shops to level 3
Order 6 Pocket Watches
125

After Watches for Everyone

The Big Secret
Rehabiliate 6 enemies at the Jail
35

After Chambers for the Prisoners

Houses Gone Missing
Build an Estate
Upgrade 2 Estates to level 2
100

After Chambers for the Prisoners

Turning Lead to Gold
Activate the Alchemist's Set Collection
130
After phase 3 of the King Statue

VIP Cells
Build a Jail
100

After Houses Gone Missing

Kind Gentleman
Grant 20 wishes at the Clockmaker's Shop
Grant 25 wishes at the Tavern
Grant 30 wishes at the Elven Bath
60
60

After Music Boxes

Magical Mushrooms
Collect 10 Magical Mushrooms
20

After Wolf's Forest

Golden Shell
Find a dragos egg
Activate the Dragos Knight Collection
100

After Wolf's Forest

Enemies All Around
Build a Dragos Stable
100

After Wolf's Forest

Wolf's Accomplices
Defeat 6 boar riders
120

After Wolf's Forest

End of the Gloomy Forest
Cut down 6 trees
Uproot 6 bushes
20

After Wolf's Forest

Lightning Rods
Build an Estate
Upgrade 3 Estates to level 3
115

After VIP Cells

Wickerewolf Amulets
Order 6 Carts at the Stone Cutter's Workshop
120

After Wolf's Accomplices

Hunter's Gear
Activate the Wickerewolf Huntress Collection
120

After Wolf's Accomplices

Crow Hunt
Activate the Wickerewolf Huntress Collection
3000
215

After Hunter's Gear

Wolf Hunt
Defeat the Wickerewolf
120
3
1

After Hunter's Gear

The Big Question
Rehabilitate 8 enemies at the Jail
40

After The Big Secret

Act of Despair
Defeat 10 Gobool Riders
120
After phase 1 of battling Wickerewolf

The Princess and the Pea
Upgrade 3 Estates to level 4
135

After Lightning Rods

The Face of the Kingdom
Upgrade the Town Hall to level 6
125

After Lightning Rods

A Precious Doll
Activate the Sculptor Collection
3500
220

After Crow Hunt

Burial Grounds Territory
Explore new Territory (#11)
120

After Wolf Hunt

New Roads
Build 16 Paved Roads
50

After Wolf Hunt

Stone Guardians
Build 4 Knight Statues
50

After New Roads

Clockmaker's Tools
Upgrade 3 Clockmaker's Shops to level 4
130

After The Face of the Kingdom

Fluffy Sheep
Build a Sheep Farm
Collect 10 Runes
Order a Basket of Wool from the Sheep Farm
125

After

Stone Flowers

Pork Chop
Build 5 Pig Farms
140

After The Face of the Kingdom

Equipment for the Expedition
Activate the Graveyard Keeper Collection
135

After Burial Grounds Territory

Volunteer Gamekeepers
Grant 15 wishes at the Tavern
60

After Burial Grounds Territory

The Kingdom's Needs
Cut down 3 trees
Uproot 5 bushes
30

After Burial Grounds Territory

Gamekeeper's Equipment
Activate the Forester Collection
80

After Volunteer Gamekeepers

Compasses for the Gamekeeper
Grant 20 wishes at the Clockmaker's Shop
100
1

After Gamekeeper's Equipment

Back to War
Activate the Scarecrow Collection
Activate the Graveyard Keeper Collection
3500
225

After Equipment for the Expedition

Tower on a Cliff
Complete the Tower on a Cliff adventure
150

After Equipment for the Expedition

The Research Begins
Explore the Abandoned Graveyard
135

After Tower on a Cliff

An Inexhaustible Supply
Build 9 Warehouses
Already built warehouses count
120

After Pork Chop

Increasing Production
Upgrade 5 Pig Farms to level 3
150

After Pork Chop

The Great Leap in Productivity
Upgrade 9 Warehouses to level 3
125

After An Inexhaustible Supply

Increasing Production 2
Upgrade 5 Pig Farms to level 4
160

After Increasing Production

Search for the First King's Crypt
Explore the Abandoned Graveyard 3 times
135

After The Research Begins

Away with Cramped Quarters
Upgrade 9 Warehouses to level 4
135

After The Great Leap in Productivity

Pure Soul
Activate the Royal Ritual Collection
135

After Search for the First King's Crypt

Preparing for the Ritual
Order 8 Mantel Clocks at the Clockmaker's Shops
Order 4 Piles from Stone Cutter's Workshop
135

After Search for the First King's Crypt

Warehouse Experiments
Upgrade 6 Warehouses to level 5
150

After Away with Cramped Quarters

Tender Wool
Build a Sheep Farm
Order 4 Packs of Wool from the Sheep Farm
120

After Fluffy Sheep

Ice Storm
Build 3 Ice Mage's Towers
110

After Fluffy Sheep

Mage's Collection
Activate the Alchemist's Set Collection
3500
225

After Turning Lead to Gold

Lockers for the Wool
Upgrade 9 Warehouses to level 5
155

After Warehouse Experiments

First Contact
Explore the Abandoned Graveyard
135
3

After Pure Soul

Expedition Supplies
Build a Sheep Farm
Upgrade 3 Sheep Farms to level 3
135

After Tender Wool

Scouting Out the Way
Explore new Territory (#12)
135

After First Contact

The Fog of War
Examine the Fog Obelisk
135

After Scouting Out the Way

Charm of Wealth
Build a Palazzo
90

After Ice Storm

Leash for a Sheep
Order 2 Carts from the Sheep Farm
50

After Ice Storm

Opera Divas
Upgrade 3 Sheep Farms to level 4
150

After Expedition Supplies

Battering Ram
Activate the Battering Ram Collection
135

After The Fog of War

Clocks Vs. Gobools
Order 10 Mantel Clocks at the Clockmaker's Shop
60

After Leash for a Sheep

Begin the Assault!
Attack the Castle Gate
135

After Battering Ram

Preparing for the War
Order 8 Packs from Sheep Farm
Order 8 Sheds from the Sawmill
135

After Battering Ram

Ice Cocktail
Upgrade 3 Ice Mage's Towers to level 2
110

After Charm of Wealth

Scent from Faraway Lands
Build a Bazaar
Collect 12 Runes
120

After Charm of Wealth

Comfortable and Cozy
Build a Palazzo
Upgrade 2 Palazzi to level 2
120

After Ice Cocktail

Spices and Wine
Build a Bazaar
Collect 15 Runes
Upgrade 2 Bazaars to level 2
130

After Scent from Faraway Lands

Something Spicy for His Moustachiosness
Grant 25 wishes at the Bazaar
Grant 35 wishes at the Tavern
70
70

After Scent from Faraway Lands

Cavalry Attack
Defeat 6 Gobool Riders
135

After Begin the Assault!

A Dress Mantle
Activate the Royal Ritual Collection
Activate the Legend of the Stones of Creation Collection
3500
225

After Mage's Collection

Blue Ice
Upgrade 3 Ice Mage's Towers to level 3
130

After Comfortable and Cozy

Invader's Lair
Destroy the Gobool Lair
135
3

After Cavalry Attack

Decisive Battle
Defeat 13 Gobool Riders
125

After Cavalry Attack

Giant in Town
Explore new Territory (#13)
135

After Invader's Lair

Fighting the Drought
Build 4 Wells
60

After Invader's Lair

Weapon Drills
Build a Palazzo
Upgrade 3 Palazzi to level 3
140

After Blue Ice

Damascus Steel
Build a Bazaar
Upgrade 3 Bazaars to level 3
130

After Spices and Wine

The Pride of the Army
Activate the Battering Ram Collection
Activate the Forester Collection
4000
230

After A Dress Mantle

Old Giant, New Plan
Activate the Air Bomb Collection
135

After Giant in Town

No effort to be spared! All for a Victory!
Activate the Ghost King Collection
65

After Giant in Town

Highway Exorcism
Defeat 10 Fatums
70

After No effort to be spared! All for a Victory!

Giant at the Gate
Defeat the Stone Giant
135
3

After Old Giant, New Plan

Air Raid
Activate the Air Bomb Collection
4000
230

After Old Giant, New Plan

Jacuzzi for the Palazzi
Upgrade 3 Palazzi to level 4
150

After Weapon Drills

Construction Works of the Century
Upgrade the Town Hall to level 7
150

After Weapon Drills

Beautiful Clocks
Grant 30 wishes at the Bazaar
Grant 35 wishes at the Clockmaker's Shop
85
85

After Damascus Steel

Exotic Goods
Grant 10 wishes at the Bazaar
80

After Highway Exorcism

Gobool Wash
Grant 20 wishes at the Elven Bath
90
2

After Exotic Goods

Into the Mountains
Search 14 defeated gobools
140

After Giant at the Gate

Expand your territory
Explore new Territory (#14)
120

After Giant at the Gate

Gourmet Drink
Activate the Mocha Collection
70

After Giant at the Gate

Scouting the Mountains
Explore new Territory (#15)
140

After Into the Mountains

Fragrant Drink
Upgrade 3 Bazaars to level 4
160

After Construction Works of the Century

The Height of Fashion
Build a Manufactory
Collect 16 Runes
110

After Dragos Fighters Order

Logs and Coffee
Build 12 Warehouses
Already built warehouses count
165

After Construction Works of the Century

Strategic Information
Rehabilitate 14 enemies at the Jail
50

After Construction Works of the Century

Sharing Good Things
Grant 20 wishes at the Tavern
90

After Gourmet Drink

Repairs and Renovations
Upgrade 12 Warehouse to level 2
180

After Logs and Coffee

Rain Protection
Upgrade 12 Warehouse to level 4
195

After Repairs and Renovations

Demolish the Old
Cut down 5 trees
Uproot 1 bush
50

After Expand your territory

Magical Thicket
Build 3 Magical Trees
70

After Expand your territory

Excellent Trim
Upgrade 12 Warehouse to level 5
200

After Rain Protection

Winders
Upgrade 9 Warehouse to level 6
210

After Excellent Trim

The Legend of Dragos
Find the Legend of Dragos in the Abandoned Graveyard
150

After Scouting the Mountains

Armor for the Princess
Activate the Dragos Fighter's Attire Collection
150

After The Legend of Dragos

Princess in Combat
Defeat the Dragos
150
3

After Armor for the Princess

Dragos Offspring
Defeat 8 dragos kin
150
After first phase of fighting the Dragos

Road to the Mountains
Explore new Territory (#16)
170

After Princess in Combat

Dragos Fighters Order
Complete the Dragos Fighters Order adventure
175

After Princess in Combat

Great Guns Guffaw
Build a Cannon Tower
120

After The Height of Fashion

Hit the books
Activate the Ghost Lecturer Set Collection
130

After The Height of Fashion

Thirst for Knowledge
Build the Royal Academy of Sciences
160

After The Height of Fashion

Textile Production
Build a Manufactory
Upgrade 2 Manufactories to level 2
130

After The Height of Fashion

Speak "Friend" and Enter!
Activate the Dwarven Gatekeeper's Attire Collection
170

After Road to the Mountains

Suplies for the Journey
Order 10 Stuffed Pigs from the Pig Farm
Plant 16 Grapes in the Fields
170

After

Increasing Production 2

Flame Shield
Order 8 Flying Carpets from the Bazaar
Order 4 Packs from the Manufactory
150

After Textile Production

Warm Blankets
Build a Manufactory
Collect 24 Runes
Upgrade 3 Manufactories to level 3
150

After Textile Production

Old Wisdom of the East
Order 6 Oriental Sweets from the Bazaar
Order 6 Rolls of Cloth from the Manufactory
145

After Hit the books

Ghost Teacher
Activate the Ghost Lecturer Collection
4000
230

After Hit the books

Journey to the Center of the Earth
Explore the dwarven catacombs 2 times
190

After Speak "Friend" and Enter!

Progress for the People
Upgrade 3 Manufactories to level 4
160

After Warm Blankets

Dwarven Treasure
Activate the Noblewoman Collection
100
After exploring Dwarven Gates for the first time

Rise of the Fatums
Defeat 10 Fatums
190

After Journey to the Center of the Earth

Iron Army
Activate the Seekers Collection
190
3

After Journey to the Center of the Earth

Ancient Vase
Order 6 Efreet in a Vase at the Bazaar
175
After 2nd phase of the Royal Academy

Science, the Engine of Progress
Activate the Princess' Wardrobe Collection
175
After 2nd phase of the Royal Academy

Velvet and Brocade
Order 8 Packs at the Manufactory
100

After Dwarven Treasure

A Length of Cloth
Upgrade 12 Warehouses to level 6
215

After Winders

Final Effort
Explore the Dwarven Gates 4 times
225
5

After Iron Army

Mansions for the First King
Build a Mansion
115

After Great Guns Guffaw

Knight Blades
Upgrade 3 Dragos Stables to level 4
150

After Great Guns Guffaw

Quality Ammunition
Upgrade 3 Cannon Towers to level 2
125

After Mansions for the First King

Bears with Guitars
Build a Circus
Collect 20 Runes
130

After Mansions for the First King

In Pursuit of Respect
Rebuild 3 Estate into Palazzi
80

After Mansions for the First King

Coffee Break
Activate the Mocha Collection
4000
230

After Ghost Teacher

A Gift Fit for a King
Activate the Ghost King Collection
Activate the Legend of the Stone of Creation Collection
4000
230

After Coffee Break

The Final Battle
Activate the Dragos Fighter's Armor Collection
Activate the Dwarven Gatekeepers Collection
5000
250

After A Gift Fit for a King

Find ? Pure Souls
Find 5 Thunder Stones
Find ? Watchman's Lamps
Already collected pieces count
250

After Final Effort

Epic Battle
Defeat 4 Trollums
Defeat 8 Gobool Riders
Defeat 16 Gobools
250

After Final Effort

Show for the People
Upgrade 2 Circuses to level 2
Collect 21 Runes
145

After Bears with Guitars

A Circus for his Moustachiosness
Grant 25 wishes at the Circus
Grant 35 wishes at the Clockmaker's Worshop
Grant 50 wishes at the Elven Bath
100
100

After Bears with Guitars

Old Mines
Complete the Old Mines adventure
200

After Epic Battle