Currencies are the different resources needed to purchase items or activate certain actions in the game.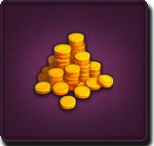 Gold 
Gems 
Scrolls 
Tokens 
Ancient Coin of Kings
Runes
Runes are a secondary currency used to build certain trade and industrial buildings. They are also required for some high tier decorations.
The runes can be obtained in a few ways:
Runes 
Elven Runes 
Dwarven Ore
Orcum Rune
Nomadic Rune
Laurels
Event
The following items are only used during specific events. They are required for building the event specific decorations.
Sweets
Holiday Card
Present
Love Note